NOTICE: PVKII BETA TESTER APPLICATIONS OPEN
Applications for the Beta Testing team are now open until further notice. This is to create an archive and waiting list. Your application will always be under consideration for when a spot opens up. However, this does not guarantee you will be selected to join the team because it is not a first come first serve process.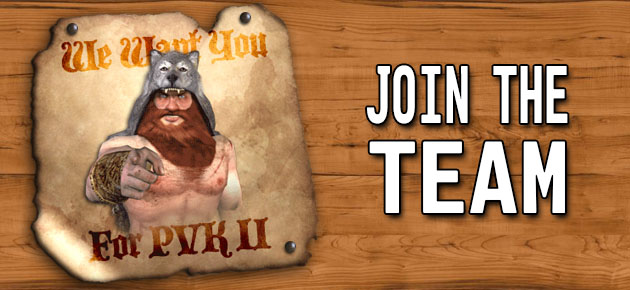 APPLY FOR TESTER TEAM HERE
The Pirates, Vikings and Knights II team is always on the lookout for trustworthy and dedicated Beta Testers. If you feel you meet the requirements below, follow the application instructions at the bottom of this post.
Test Times and Requirements
- We currently host two tests per week.
- Sundays at 13:30 EST / GMT -5 and Wednesdays at 13:30 EST / GMT -5
- Attend at least 4 tests per month and try to attend one test a week, for at least one hour.
- Beta Testers are also expected to spend time outside of the scheduled tests, checking for bugs and improvement possibilities.
- Only apply If you can make at least one of these days and times on a regular basis.
- We have clear rules to go over with you upon joining the team. We want to have an expected and consistent, minimum number of testers at each test. Not following the rules will result in us starting our 3 strike process. Don't take it personally, we have to respect our team and development.
Our final requirement: Sworn Secrecy. Any Beta Tester who leaks private beta content, and/or information to the public will be removed from the tester team. You may also find yourself banned from future PVKII releases and, in some cases, removal from this plane of existence. Only apply if you can keep information private and cherish your existence in this world.
Applying
If you've made it this far, you can make both our scheduled tests on a regular basis and can keep a secret. In that case, we're glad to take your application.
To apply, send an email to
octosharkrecruitment[AT]gmail.com
with the subject: "[FORUM NICKNAME] Beta Team Application". Your email must be written by you so we may know your fluency with the English language. We do not accept translated application emails.
In the email, include the following:
- Forum nickname
- Age
- Location
- Steam Community Page
- In-Game nickname
- Ability to participate in the two test days on regular basis
- Experience with pvk2
- Any testing experience
- The reason you want to be a tester
Thank you, we look forward to your application!*
*If the testing team is full, your application may be put on hold.