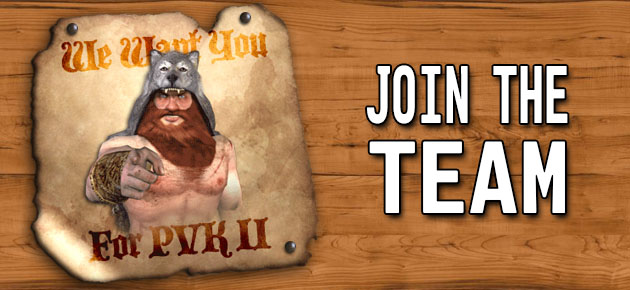 Well ahoy ther' mateys, brothers, and lasses!
We be currently recruiting talent for developing or contributing to PVKII in the priority positions below! First up though; you should know about the different ways you can help us out!
ROLESDeveloper

Have a spot on the PVKII team, must complete an applicant's challenge or trial, provides more input and impact to the future of the project and studio, and contributes to development on a consistent basis.
Authorized Creator

Have the skills of a game developer, but don't have the time to commit to the team? Contribute to the game whenever you feel like it. Always open for any position.
Contributor

Have some assets you'd think would help us out? Want to make a professional trailer video for the game? These are just some examples! If you'd like to be a one time contributor and provide us with something ready to use please post in our application forum.
*
Everyone in these groups receives in-game recognition, invited to a Steam Group, and recognized on our official website.
So…
Are you GREAT?Do others envy your SKILLS?Do you have a strong passion for game design?And most importantly, are you a trustworthy and reliable future crewmember?
If you answered YES to all of the above, you may be just what we are looking for! So, if you think you have what it takes to be a member of a talented and dedicated game development team, please let us know if you are interested!
We're always on the lookout for:
Programmer(s)
Join our growing team of skilled PVKII programmers! Must be experienced with C++, git, and ideally the Source Engine. A creative problem solver and team player who can work with senior programmers to frequently update private build content. Take on a project, help us refine and make new gamemodes, learn vgui and update our visuals, or program a new class for the game! Taking on the role as an additional coder, you will be an essential and positive force for the future development of PVKII and Octoshark Studios projects.
Animator(s)
We be always looking for more animators! Must be capable of producing realistic looking animations that flow well and convey weight and density etc. Must also have experience with the source engine and the process of compiling animations into the model. Should you be an expert in 3rd person and/or 1st person we want to see what you can do!
3D Artists
Whether you specialize in characters, weapons, or props, we need you! Must be able to produce lovely-looking models and textures that fit in with PVKII's art style. Ideally, prop modellers work with our environmental artists to fill levels up with various props and assets. Modellers must be able to skin their own models and compile them into the game. Experience with the Source engine is ideal.


2D Artist/Texture Artist/Particles
Could be one person, could be three. We need experienced 2D artists capable of regularly producing a variety of 2D art. You need to be able to produce any of the following: game environment textures, in-game particle effects, concept art, or graphics for promotional material. Whatever you see yourself doing, we can find a task fit for you! Experience with the Source engine is ideal.
Additional Leadership
Think you've got a master plan, the connections, the resources to help direct the future of PVKII and possibly Octoshark Studios? You should have a lot of experience with PVKII, and have a positive reputation in the community. Must understand the requirements of game design, project management, and have the commitment to see goals to completion. You are a planner, patient, understanding, engaging, a team player, and of course you are a great communicator. You take initiative for new solutions such as internal/external recruitment, or press opportunities. You rally team members for discussions, meetings, tests, and projects. You work with our core leadership team, and maximize efforts from your area of responsibility. Experience with the Source engine is an asset. Experience developing and testing games or mods is an asset. This is a developer position.
Is your specializing field not listed above, even though you think we could use you? Apply anyway with examples of your work!'
APPLY NOW!
We're an easy group of people to get along with and have fun doing what we do. If you're interested in applying for the team, please stop by the applications section of our forums
http://forums.pvkii.com/categories/team-applications
here. No time wasters please! Successful applicants will be given a small test assignment and/or go through a short trial period before joining the team proper. Only serious applications please.