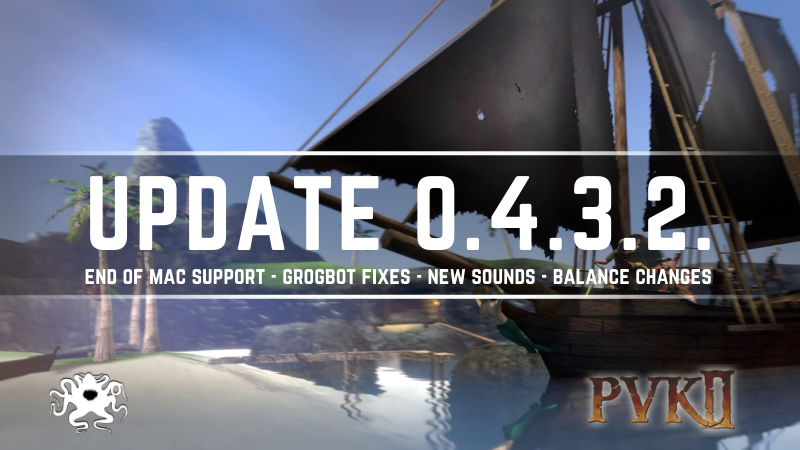 An update to PVKII has been released. The update will be applied automatically when you restart the game. Server admins, please update your servers!
Changelog

End of MacOS Support
Due to lack of engine support, we will be unable to ship Mac builds going forward. You can read more about it here. Previous MacOS builds have been deprecated, and are unable to join updated servers.

General Changes
Added Captain voice lines when parrot dies
Added a death knell hitsound that plays on a killing blow
Added entity "logic_ruleset", that allows gameplay cvars to be set for the duration of the map
Added server-side "pvk2_support_helper" command (prints OS and CPU information)
Atlatl darts are now hidden when the Bondi is out of ammo
Fixed caltrops slowing Huscarl and Gestir during their specials
Fixed movement speed while blocking with a shield
GrogBot chatter is now only displayed in offline bot games
Hitsounds now scale in pitch depending on how much damage is done
Internet servers with bots are hidden from browser for now
Kicking no longer plays a hitsound
Offline bot games no longer appear in the server browser
Renamed "Casual" ruleset to "Classic"
Restricted the server to only being able to execute commands marked with FCVAR_SERVER_CAN_EXECUTE
Ruleset is no longer displayed in the loading dialog
Small improvements to Javelin and Throwing Axe animations
Support helper now recognizes Windows 11
Tweaked how long GrogBots chase enemies
Updated the friendly fire hitsound
Updated the headshot hitsound
te_cara rebuilt with correct cave lighting
Balance Changes
General:
Clash stun reduced from 1 second to 0.5 seconds
Removed shield bash special multiplier
Artisan Pistol:
No longer has spread while aiming down sight
ADDRESSING THE MISUSE OF NATIVE BOTS
Due to the constant misuse of bots / fake clients by rogue admins, they're filtered out from server browser for now, this is temporary until there's a better solution this thread has more info (can also comment).
JABRONI BRAWL x PVKII
Check out Jabroni Brawl's latest media update! Tyler McVicker talks about Jabroni Brawl: Episode 3, a mishmash of Half Life and Source Mods and Culture, featuring classes and maps from PVKII!Jabroni Brawl: Episode 3 Coming Soon only on Steam: Bit.ly

Check out PVKII Online!
Official Site | Official Forums | Official Discord
Facebook | Youtube | Twitter |
Instagram |
Trello | modDB