SEEKING MALE & FEMALE AUDITIONS FOR NEXT CLASSES: PIRATE TANK BUCCANEER AND KNIGHT FEMALE ASSASSIN

Think you've got the perfect voice to match one of our classes? Come on by! You must have your own equipment with experience in voice acting and of course, examples of things you've 'said' in the past! You should be creative to help with ideas for voice lines, flexible to change, reliable, and willing to work your pipes to fit one or more class!
SEEKING AUDITIONS FOR OUR NEXT CLASSES, PIRATE BUCCANEER AND FEMALE KNIGHT ASSASSIN!


IF ALL GOES WELL, WE HOPE TO RELEASE ASSASSIN THIS YEAR!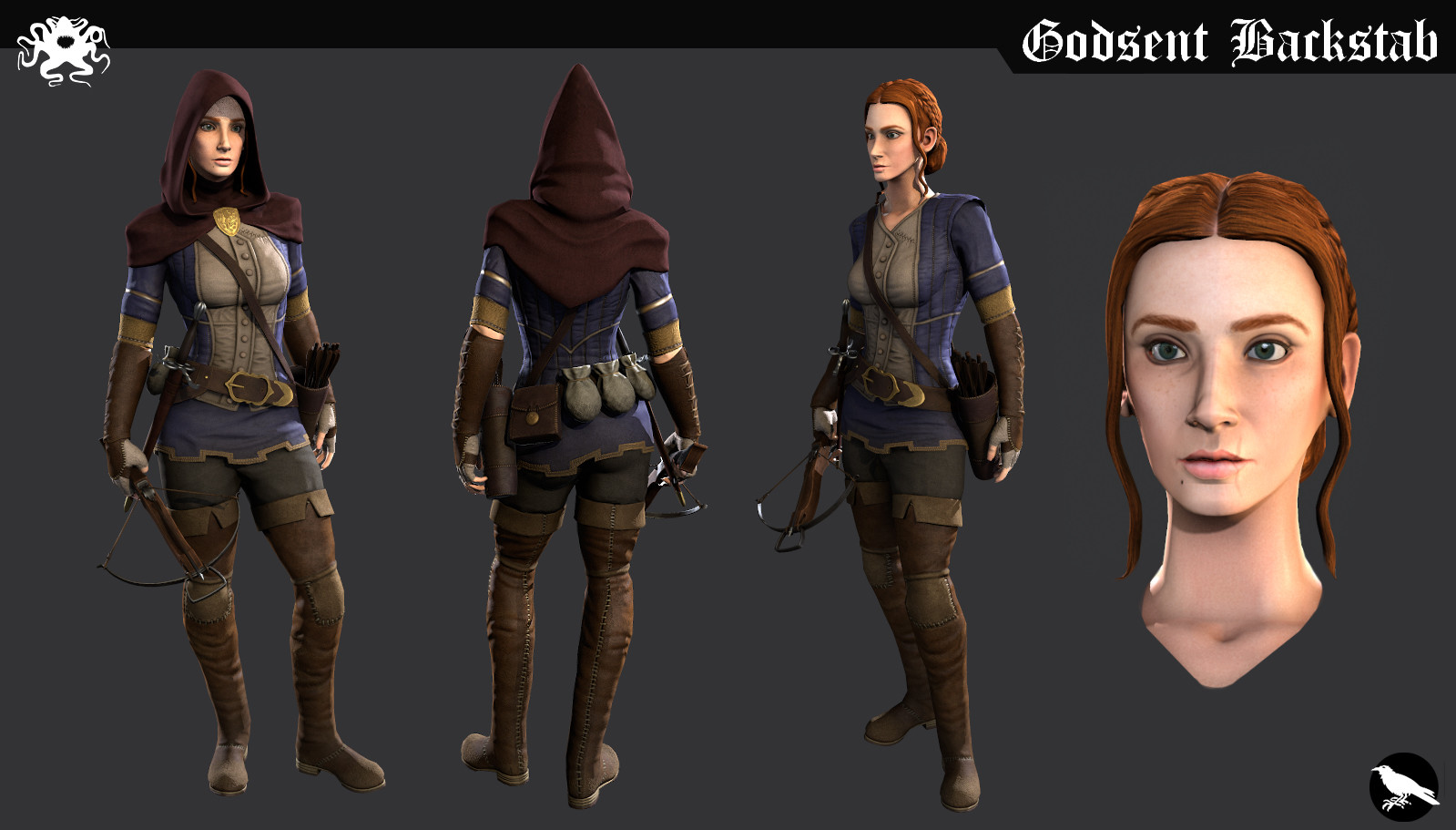 ASSASSIN
Most comfortable in shady alleys, gloomy dungeons and dark castle halls, the Assassin strongly prefers not to be seen. Really, don't look at her. She hates it and she'll cut you.
In service to the Earl of Bamburgh as spymaster, at court and abroad she schemes, plots, spies, blackmails, steals, embezzles and kills to further the noble goals of her good Lord's house. Operating from out of sight, she knows precisely when to use her natural guile to remain unseen and when to brutally press the attack and eviscerate all who oppose her.
Intrigue, evasion, deceit and cunning are the core of her devious toolkit. She's not above dirty tactics to trick and outmaneuver her opponents – some people might say that makes her dishonorable, but those idiots are as dull as rusted iron. To them, her methods make her a lying, cheating, sinful, poisonous, backstabbing no-good cowardly murderer. To her that's just another day at work.
All in all shes a real royal, stuck up princess with a dark and deadly edge to her. Slightly schitzo, unstable, or mentally ill. Think a proper and royal Harley Quinn. Ideally English accent, but can be French, or any other typical European/medieval accent (scott, welsh, irish etc.) Addicted to killing. If she can't have you; no one will. Remember, she also has a quiet side, whisper some lines where appropriate, as well as add in sudden surprises going from quiet to loud (i.e. sneak attack)
SAMPLE VOICE LINES
Unsanctioned privateers! Eliminate those pirates.
The pirates! Clap them in irons!
To the locks with those pirates.
Eliminate those viking raiders!
Attack the northmen!
Come hither!
We must seek the Holy Grail!
By order of the king, this land is mine!
Off we go. Quietly, now. (**whispering**)
I have the treasure!
You call yourself men! The Grail is gone!
Slow-witted fools, we've lost the objective
I bequeath thy end!
You fouled roustabout.
They ought to clap thee in darbies. My steel will have to do.
I am much obliged.
I'll be collecting that bounty on you now, thank you.
I've orders for your immediate execution.
Breastplates, bludgeons, backswords and bows at the ready? Good.
Sweet dreams, now. (**whispering**) (Stealth Kill)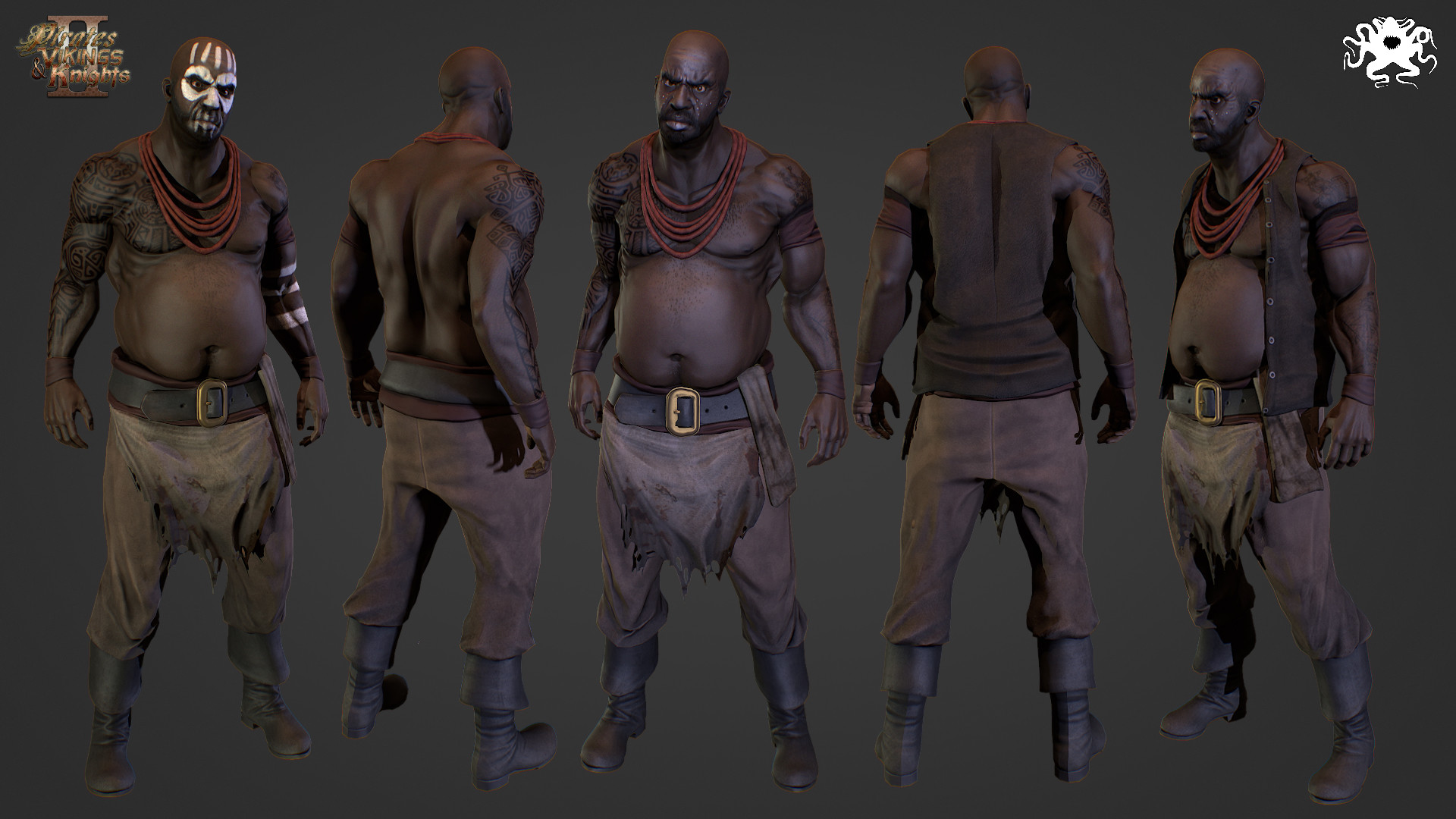 BUCCANEER
A pirate tank! Heavy and tough, but also a gentle giant and big teddy bear. He will be a big Jamaican fond of certain herbs and crushing bones. Loves to talk, sing, and enjoy the pirate life, but be careful he can get emotional. Should sound big, jolly, and upbeat. Full of energy! Effects may be needed to achieve the right tone. Here's an audio concept from many years ago of what we're looking for:
http://yourlisten.com/Bingo Bango/jpirate#

SAMPLE VOICE LINES
I need da 'ealer, mon!
Ya breaddren
They come for war!
Go Go Go!
Fight dem like the Wolves o' da Sea we are!
Defend!
Aye mon, in we go, in we go, in we go
Attack the Kniiights
Get them rudeboi knightss
Attack the Vikiiings!
Get dem big ol' bearded bloodclots
Chya need ta follow me mon
Lemme 'ave a sip o dis, rep me boys
Ya Blawd A make tha grass grow greenah
We gwanta killyaa; and cutchya inta tiny pieces
Sixteen men on a deadman's chest/ yo ho ho and a bottle of rum Rum RUUMRUUUM oh beautiful rum (sing)
CONTACT
We're an easy group of people to get along with and have fun doing what we do. This a great way to get your name and work out there, and fast. If you're interested in applying for the team, please send us an email at octosharkrecruitment@gmail.com or post in the application forums.
As we expect quite a few entries, only successful applicants will be contacted.
Recording & Sending Instructions:
-Save all files in 44100 hz mono mp3 format
-Record all of a character's audition lines in one file with minimal pausing between lines, feel free to edit or apply effects if needed
-Label as Yourname_Character.mp3
-Put "(Project Name) Audition" in the subject line of the e-mail
Promotional images and character models by: Corvalho